Baby Soap
A smooth, creamy, pure unscented soap. Olive oil has been used in skin care for centuries for its ability to penetrate the skin and hold in moisture, while allowing the skin to breathe. It is regarded as the mildest soap in the world, and most suited to sensitive skin.
The perfect soap for babies and ultra-sensitive skin.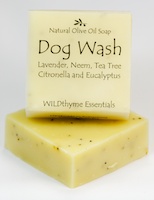 Dog Wash
A gentle, natural soap for dogs, with an insect repelling blend of essential oils to keep fleas at bay. Leaves your dog's coat soft and odor free.
Great for all dogs, especially those with itchy or sensitive skin.